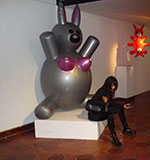 Marina Páez, most well known as Morsh, is a Visual Artist born in Buenos Aires, Argentina, who currently lives and works in Berlin, Germany.
She works and masters quite diverse media raging from painting, industrial-like hand modelled ceramics, inflatable sculptures, installation, photography, to the use of technology.
Apart from her Bachelor of Fine Arts at the UNA (Universidad Nacional de las Artes), specialized in painting, she has a big influence on her work from her previous study of Industrial Design at the UBA (Universidad de Buenos Aires).
Education
2003-2008 Bachelor in Fine Arts, UNA (Universidad Nacional de las Artes)
2000-2003 Industrial Design, UBA (Three of four years) (Universidad de Buenos Aires)
Workshops and courses
2020 – Inkubator @ Dada Post Berlin – Art Residency. Berlin, Germany
2018 – Schmiede – Art Residency. Hallein, Austria
2017 – MAMBA (Museo de Arte Moderno de Buenos Aires) – Educación Rosa Sentimental by Francisco Lemus. Buenos Aires, Argentina
2017 – Malena Pizani's Art Clinic. Buenos Aires, Argentina
2010-2013 – Diana Aisenberg's Art Clinic. Buenos Aires, Argentina
2005 -2008 – Diverse photography courses. Buenos Aires, Argentina
Awards and Contests
2018 – Kokkenet Festival. Copenhagen, Denmark
2018 – Prize to the Visual Arts Itaú Foundation. Buenos Aires, Argentina
2017 – Grant to the Artistic Creation – FNA (National Art Fund). Buenos Aires, Argentina
2017 – National Salon of Visual Arts. New media and installation. Palais de Glace. Buenos Aires, Argentina
2010 – National Salon of Visual Arts. New Media and Installations. Palais de Glace. Buenos Aires, Argentina
2009 – National Salon of Visual Arts. New media and installations. Palais de Glace. Buenos Aires, Argentina
2009 – National Salon of Visual Arts. Castagnino-Macro Museum. Rosario, Santa Fé, Argentina
2008 – Curriculum Cero Prize. Ruth Benzacar Art Gallery. Buenos Aires, Argentina
Exhibitions
2020 – Inkubator Residency / Body Occupation @ Dada Post. Berlin, Germany
2019 – Istanbul Performance Art online exhibition – http://istanbulperformanceart.com/
2019 – «Facing Realities». The Art Union Collective. Berlin, Germany
2018 – Kokkenet Festival. Copenhagen, Denmark
2018 – Art Fair «Microferia». Acéfala Galería. Rosario, Santa Fé, Argentina
2017 – ArteBA Focus Art Fair, second edition. «Cicle», winner piece of the Grant to the Artistic Creation 2017, FNA. Acéfala Gallery. Buenos Aires, Argentina
2017 – «LMDM». ULM Art Gallery. Acassuso, Buenos Aires, Argentina
2017 – «El filo en la boca del tajo». Acéfala Art Gallery. Buenos Aires, Argentina
2016 – «Extremidad, corte, amor». Popa Art Gallery. Buenos Aires, Argentina
2016 – «La sexual Magdalena de Proust». MAC / MBA (Museo de Arte Contemporáneo de Bahía Blanca). Bahía Blanca, Buenos Aires, Argentina
2016 – «Cuando el pensamiento se vuelve forma», solo show. Acéfala Art Gallery. Buenos Aires, Argentina
2015 – «Zoo». El Mirador Fundación. Buenos Aires, Argentina
2015 – Colada. CasaA. Buenos Aires, Argentina
2015 – «Gira Artlab». Buenos Aires, Argentina
2015 – «El país de los juguetes». Mi Micromuseo Art Space. Buenos Aires, Argentina
2015 – «La casa erotica». CasaA. Buenos Aires, Argentina
2015 – «Pase y cierre la puerta». Milion. Buenos Aires, Argentina
2015 – «Animals». CasaA. Buenos Aires, Argentina
2014 – KDA (Kiosco de Artistas). Bravard Art Space. Buenos Aires, Argentina
2014 – «Porno suavecito». Conectarte Art Gallery. Buenos Aires, Argentina
2014 – BEXP. Site Specific Installation. Buenos Aires, Argentina
2014 – L' Illustré. Solo show. Troyes, France
2014 – FACA (Festival de activación Cultural Autogestionado). Buenos Aires, Argentina
2014 -«Summer Trash». Cultural Centre Mi Casa. Buenos Aires, Argentina
2013 – BEXP. Site Specific Installation. Buenos Aires, Argentina
2013 – «Divertime». La Sin Futuro Art Gallery. Buenos Aires, Argentina
2013 – «Llenos de amor». Braga Menéndez Art Gallery. Buenos Aires, Argentina
2013 – «Susi: La isla del placer». Collaboration. Isla Flotante Art Gallery. Buenos Aires, Argentina
2013 – «ML». Solo exhibition. Typus Raamgalerie. Rotterdam, Holland
2012 – KDA (Kiosco de Artistas). Buenos Aires, Argentina
2012 – «La expansión: conceptual series of intervened media". Solo exhibition. Buenos Aires, Argentina
2011 – «Memoria lúdica». Solo exhibition. MMAMM (Museo Municipal de Arte Moderno de Mendoza). Mendoza, Argentina
2009 – Expotrastiendas Art Fair. Isidro Miranda Art Gallery. Buenos Aires, Argentina
2009 – "Sex and Violence". Appetite Art Gallery. Buenos Aires, Argentina
2009 – «Festín». Polímero-Collective Art Group. Isidro Miranda Art Gallery. Buenos Aires
2006 – Group Painting exhibition. Nébula. Buenos Aires, Argentina
2002- Group Painting exhibition. El Baldoquín Cultural Centre. Granada, España